What is a Soldamatic welding simulator?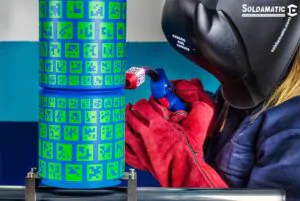 Soldamatic IE is the world's first Welding Training Solution powered with Augmented Reality (AR). It is the third generation Soldamatic platform and applies new technologies like AR to enhance the learning process and uses real welding equipment to develop skills and muscle memory. Moreover, this simulator applies gamification to improve trainees' motivation, personalized learning to adapt to their personal needs and green & safe technology to reduce the risks for newcomers and pollution.
Benefits of Soldamatic Augmented Reality welding training solution:
1. Soldamatic is the first Augmented Reality welding training solution worldwide allowing businesses to train welders in a more sustainable and efficient way.
2. It has a high camera resolution for AR facilitates different welding positions, providing the closest-to-reality welding performance.
3. In addition, it gives a 68% average saving on consumables.
4. Moreover, the lessons and practices are compliant with specifications and guidelines of the International Welder Program by the IWS, the Sense Program by the AWS, and German DVS Media.
5. Provides free remote software updates, online technical seminars, and remote technical support in real-time, worldwide.
6. Augmented Training represents a new paradigm for vocational, technical and industrial training. An approach that combines innovative technology and education.
7. Lastly and most Importantly, the technology helps reduce CO2 emissions of welding programmes and avoids physical risks for students.
What is VRTEX 360 Simulator?
The VRTEX 360 is Lincoln Electric's most advanced welding simulation trainer for educational and industrial training, recruiting and screening. In addition, with an innovative full-scale welding table, the student can practice in all positions. Through the Extensions™ Upgrade Program, the VRTEX 360 grows as your program needs change. Moreover, it also has Add bend test capability, stainless and aluminum welding, the Demo Mode to show optimal welding technique and the Replay Mode to play back any weld performance from any angle.
Lincoln Electric's VRTEX® 360 Compact is a new, small Virtual Reality Welding Simulator for mobile-use in multiple environments. In addition, it provides a flexible, powerful, cutting-edge solution for cultivating welding talent quickly and resourcefully. However, the cost-effective small-sized solution offers superior graphics, which creates the most realistic and responsive welding puddle available and it convinces with accurate sounds and movements. With the new VRTEX® 360 Compact, virtual welding training can seamlessly transfer into real-world, hands-on welding training.
BENEFITS of Lincoln Electric's VRTEX 360 :
Firstly, It has multiple welding processes and positions.
Variety of joint configurations.
Instructor tools allow modification based on preferred welding program and style.
Realistic appearance of welding puddle and welding sounds.
Magnetic tracking system provides accurate measurements for student evaluation.
Moreover, The visual cues give real-time technique feedback.
Record, archive and verify student work and performance.
No welding consumables, wire or waste.
Track savings with the Weldometer.
Conclusion
With an innovative full-scale welding table, the student can practice in all positions. Soldamatic IE is the world's first Welding Training Solution powered with Augmented Reality (AR). In conclusion, here are some points why you should consider Soldamatic over any other type of Simulator:
Zero risks: This is probably the best thing for people who are just starting out because they have nothing to lose. Everyone starts out as a beginner, and when you don't know what you're doing, it can be dangerous. Thanks to simulation, there are no longer any risks.
Reducing the cost of consumables: Secondly, Welding takes hours of practise in different positions and with different pieces and materials. Every time a trainee uses a piece to practise, it can no longer be used again. With Augmented Reality, you can use the same piece to practise welding in different materials.
Personalization = Less Time, Better Skills: Each student can practise the same steps until they are perfect. This lets them control the pace of their learning, making sure they move on to the next step when they are skilled enough.